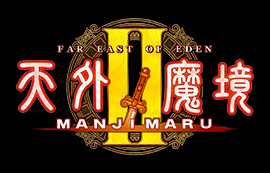 Far distant past, there was an island country called Zipangu in the Far East.
It was a peaceful nation filled with blossoming flowers all through the year, and people there were leading relaxed lives, independently.
This is a story about the "Fire Clan," set in a beautiful island nation Zipangu.
"Tengai Makyo: Ziria" was released in 1989 as the first title in the genre of "Japanese-inspired RPG series."
Renowned as a milestone of RPG history, the series features adventure and action that are set in a fictional country Zipangu, and the misconceptions about Japanese culture by Western societies, including "Geisha, Fujiyama, tempura and sushi."
The series is composed of three separate games; "Ziria," "Manjimaru" and "Namida," and each is set in three distinct regions of Zipangu; Bando, Yamato and Kyushu.
In addition to these, there are spin-off titles such as "Revelations Vol.4" set in New Orleans, US, and "Fuun Kabuki Den" in which the popular character in the second sequel, Kabuki Danjuro, plays a major role.
Created by P. H. Chada    Planned and supervised by Ouji Hiroi    Illustrations by Torajiro Tsujino
This was the world-first RPG then released for the new CD-ROM format to introduce movies, orchestra sound and fully voiced animations. It was an epoch-making attempt in the sense that it raised video games to one established genre in the entertainment.
Ryuichi Sakamoto and Joe Hisaishi composed music for its sequels I and II, respectively. For III, Sarah Brightman sang the theme song.
Media
Related information
ⓒKonami Digital Entertainment ⓒRED