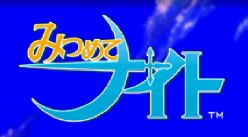 A pure love.
Each shape of love is here for you.

A mercenary arrived the Kingdom of Dolfin.
You fight, you meet and love… What do you ask of, seek, and obtain in your daily life?
A story sets in a Southern European fictional country, the Kingdom of Dolfin.
A young mercenary arrives at the kingdom all the way from the East.
What awaited him there was a three-years military service.
To confer honor of knight, he attends the training school, experiences battles, meets lots of people, and grows up.
The ultimate goals of your life in Dolfin are to be honored as a Saint Knight, the highest class of knights, and to marry someone you love.
Both of these two goals will require the real ability as a knight, of course, and the appeal as a real man.
Hone your fencing technique, accumulate knowledge, and experience various episodes to accomplish your goals.
 The first collaborated work by KONAMI and Red Company (current Red Entertainment).
Well-defined worldview and historical background, as well as surprising events make this game a "pure" dating sim entertainment that does not fit the mold of conventional dating sim games.
In addition to the original title, drama CDs describing its world from different perspectives, and a sequel.
Media
Related information
ⓒKonami Digital Entertainment ⓒRED