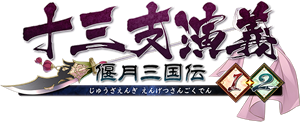 Time is a tumultuous era, when the wheels of fate for the cat clan and humankind start rotating―
Time is the end of Hauhan. An unscrupulous hero Cao Cao took "Maozoku" (literally, Cat People) out of their hermitage. Maozoku people who have human bodies and zootic ears have been despised by human who thought them as descendants of Cat Demon "Kinme."
Human scornfully called them "Jyuuza," or the thirteenth zodiac, based on an old tale; cats were left out of the twelve signs of the Chinese zodiac.
◆JUUZAENGI
Three Maozoku kids, Guan Yu, Liu Bei and Zhang Fei were raised as real brothers. But the peaceful days come to an abrupt end. The three are embroiled in a battle among human, due to a maneuver laid out by Cao Cao, who got his eye on the kids' capabilities.
◆JUUZAENGI 2
Maozoku was living in peace with humankind. But during the absence of Cao Cao, human attacks them again motivated by a sense of distrust. Being chased by human again, Guan Yu and her friends depart in pursuit of a haven.
This is an adventure game brought by outstanding creation team; Ouji Hiroi (known for "Sakura Wars" series) for story draft, Teita for illustration, and Nobuo Uematsu (famous for "Final Fantasy" series) for theme and game songs.
Idea Factory and Red Entertainment present the adventure game depicting the romance between the heroes of Three Kingdom Saga and the heroine, against the backdrop of a unique worldview characterized by cat-eared Maozoku, and humans living in the Mainland China.
Media
Related information
Official Website
http://www.otomate.jp/jyuzaengi/vita/
©2015 IDEA FACTORY/RED